What to Do and What Not to Do in a Campus Placement Interview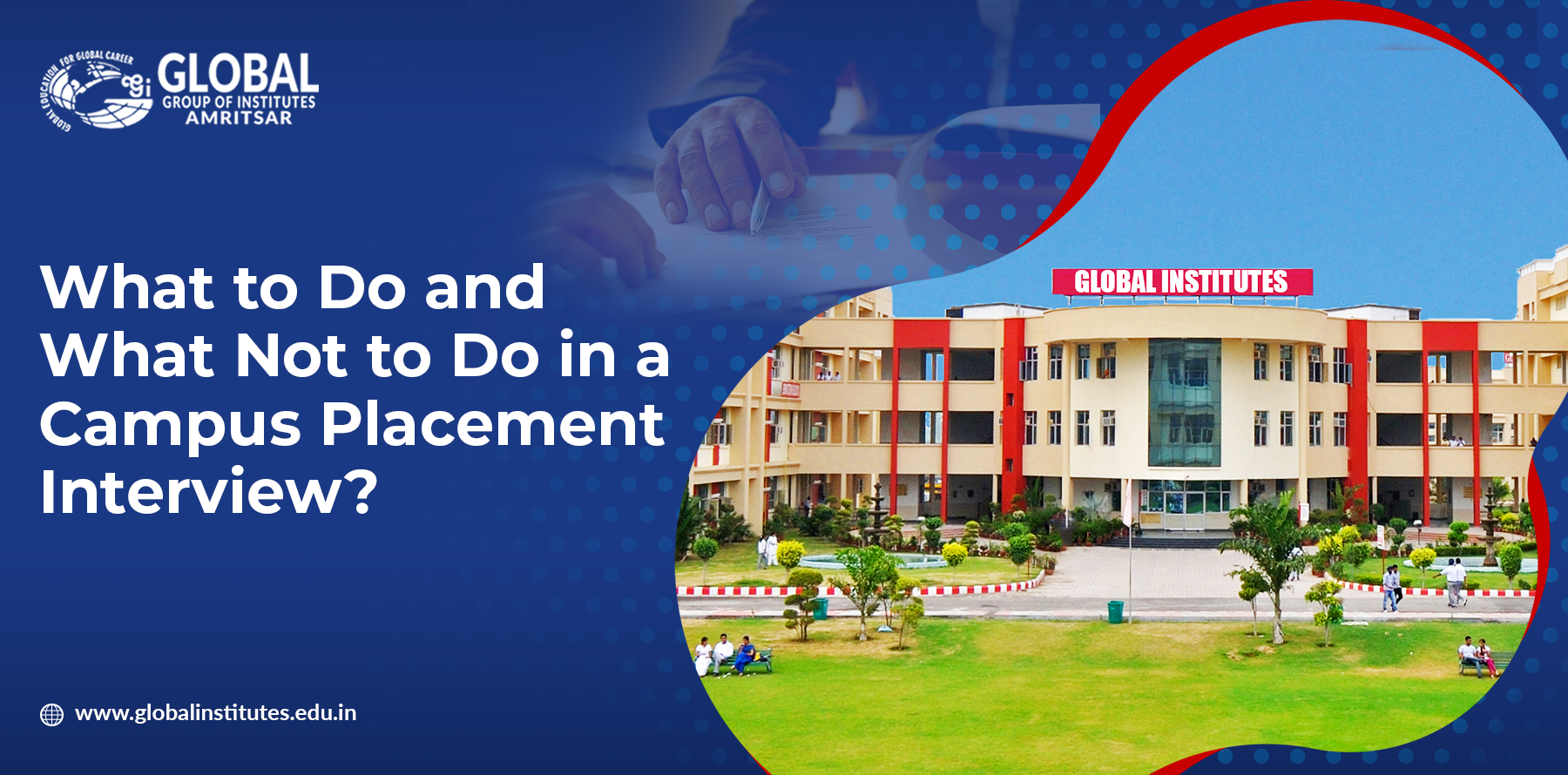 Campus Placement Interview Overview
Interviews are quite important as it allows an individual to leave a good and lasting impression. During the first interaction with the employer, a person's conduct is given great importance. Especially if in a campus placement a fresher is appearing for a job interview. It can also bring out an academic performance and CV in addition to interactions. Let us understand the campus placement interview from the list below for better understanding.
What to do in the interview
Although some things may work for one person and may not for another, it may be good to follow some of the suggestions below.
Ask questions and be clear in your approach.
Keep information about the profile of the company so that you can fulfill their requirements.
Be confident.
Be comfortable while talking with hand gestures.
Be punctual and make sure you arrive 10 minutes before the interview.
Keep a copy of all the documents with you.
Wear appropriate and clean clothes to make you look neat.
Express yourself with simple and clear words.
If you are interviewed by a panel, make eye contact when answering the question.
Be alert, listen to the questions carefully and answer them thoughtfully.
Positively present your skills and weaknesses.
If you are skeptical about a certain statement, raise the question only when you fully understand the question.
Try to maintain your positive image.
Show enthusiasm for joining the company and position.
What not to do in the interview?
There are many things to clarify. Understand them and do not make these mistakes on your important day.
Do not sit in a rigid posture.
Do not answer with a simple "yes" or "no".
Do not dress casually or look unhealthy.
Do not meditate while sitting.
Do not finish the interviewer before asking questions.
Do not lie about your internship experience and experiences in college. They can cross-check.
Do not make disparaging remarks about your professors, supervisors and fellow students.
Avoid asking too many questions about salary, holidays or bonuses. You can discuss these once a proposal has been made.
Do not wear strong perfumes or fragrances.
At the same time, do not fret if something goes wrong. If you have not given a satisfactory answer to a question, do not worry. Stay focused and present the next question with integrity.
Campus Placement Interview Frequently Asked Questions
Tell us something about you.
This is a general placement interview question. While this question is the simplest in approach, treat this question carefully and answer it from the job point of view. Never start with your name, just traditionally present your qualifications because the interviewer wants to know the details which are not mentioned in the CV. Or you can start with value systems developed by parents, or discuss your strengths and weaknesses.
What are your likes and dislikes?
Discussions of choice can be from places, transportation, dressing, food or hobbies. This also applies to your dislikes; Do not be too harsh or negative on this question. Try to have such a discussion that can find your interest, praise the area and give favorable responses.
What are your strengths and weaknesses?
Everyone needs certain qualities to do professionally with success in a particular field, so always try to adapt the answer according to your field. Try to assimilate qualities such as integrity, excellent verbal communication, listening skills, and excellent knowledge of the product. Don't go trying to give a generic answer, and try to be as descriptive as possible. Do not present your significant weaknesses. A good way is to reveal your strengths as weaknesses, for example, punctuality.
What is your ambition?
I want to be a good manager or I want to be a CEO in the next five years to avoid the usual statements. This one can go for short term and long-term ambitions. Try to make the answer explanatory and detailed so that the interviewer can find out what you have planned to achieve your larger goal.