B. Pharmacy
Pharmacy is a versatile, dynamic, growing and increasingly diverse profession; one which creates an excitement because there are so many opportunities for service. Recognized as a science-driven and clinically focused area, Pharmacy is a discipline that combines a wide range of scientific concepts which are critical to the discovery and development of new drugs and therapies. Bachelor of Pharmacy (B.Pharm) is an undergraduate degree course in the field of Pharmacy education. In this course the students study about the drugs and medicines, Pharmaceutical Engineering, Medicinal Chemistry etc.
Course Offered
B.Pharmacy (60 Seats)
B.Pharmacy (Lateral Entry into 2nd Year)
Eligibility
B. Pharmacy:
All those candidates who have passed the 10+2 with Physics & Chemistry as compulsory subjects and one subject from Mathematics, Biology or Bio-Technology conducted by a recognized Board / University / Council can apply for admission to this course.
B.Pharmacy (Lateral Entry into 2nd Year):
All those candidates who have passed the 2 year diploma in pharmacy from an institution affiliated to PSBTE&IT /recognized Board / University / Council and duly approved by PCI/AICTE and should have obtained a minimum of 45% marks (40% in case of candidates belonging to SC/ST Category) in the above mentioned qualifying examination, can get  admission to this course.
Objectives
To Develop professional Pharmacists globally considering the needs of whole world.
To produce a pharmacist having skills and ability equivalent to International standards of Pharmacy Training.
To initiate research which will utilize locally available materials for possible use in Pharmaceutical Industry.
To practice according to the internationally accepted professional code of ethics which will include the ability to: Compound and dispense medicine including sterile preparations, Evaluate drugs to determine and maintain their quality, Participate in the health teams by giving advice in all matters relating to drugs, and, Participate in the training of nonprofessional pharmaceutical staff e.g. dispensers and other health personnel as appropriate.
Learning Outcomes
Develop ability for in-depth analytical and critical thinking in order to identify, formulate and solve the issues related to Pharmaceutical Industry, Regulatory Agencies, Hospital Pharmacy and Community Pharmacy.
Develop an ability to solve, analyze and interpret data generated from Formulation Development, Quality Control and Quality Assurance.
Develop written and oral communication skills in order to communicate effectively the outcomes of the Pharmaceutical problems.
Develop team spirit, apart from responding to the social needs and professional ethics.
Develop an aptitude for lifelong learning and continuous professional development.
Develop an understanding for the need of pharmaceutical sciences and technology towards giving quality life to people in society.
Scope of Employment
Due to the opening of large pharmaceutical companies, the future in the field of pharmacy is bright. Numerous jobs are available for pharmacists in government as well as private organizations. As such after completing the studies, a student can easily find jobs in pharmaceutical industries, government departments, colleges and universities, hospitals, investigation and research institutes etc. Pharmacists can practice in community pharmacies, hospitals, clinics, extended care facilities, psychiatric hospitals, and regulatory agencies. Sales & Marketing job sector also hires maximum number of pharmacy graduates. One can also work in retail stores of medicines. After registering with the state Pharmacy Council, one can open chemist/drug store and sell medicines as per doctor's prescription.After the completion of the course the students can work as a:
Chemical/Drug Technician
Bio-Technologist
Drug Therapist
Drug Inspector
Hospital Drug Coordinator
Health Inspector
Pharmacist
Pathologist
Scientist
Research Officer
"CHART MAKING COMPETITION" on 17th March 2021
The Department of Pharmacy & MLS organized a Chart Making Competition on 17th March 2021.
The students, especially the freshers, showed keen interest in the competition.
Such competitions and other extra curricular activities are being organized on regular basis by the Department.
The students participated in the competition in large number with full enthusiasm and learnt many new things. They also shared their creative ideologies with their fellow students.
All of them completed the task alloted to them with great energy,confidence and interest.
The freshers (who could not come to campus during lock down ) highly appreciated the positive ambient atmosphere of the campus.
The students expressed their gratitude to the staff and the management for arranging such fun loving activities along with the excellent arrangement for high quality teaching.
The freshers also shared their experiences of their stay at Global Institutes.
At the end the winners and participants were honoured with Certificates on the basis of their performance in the competition.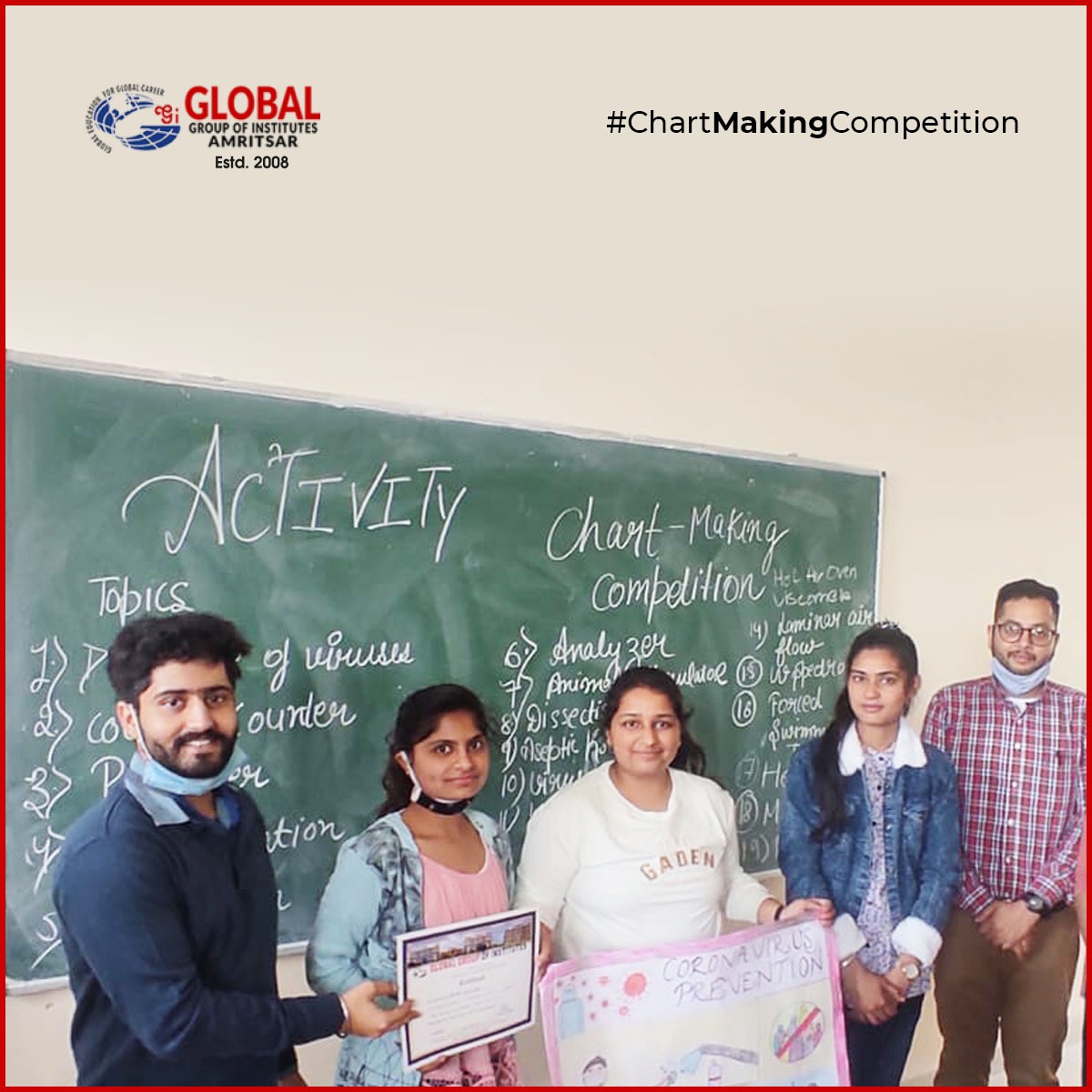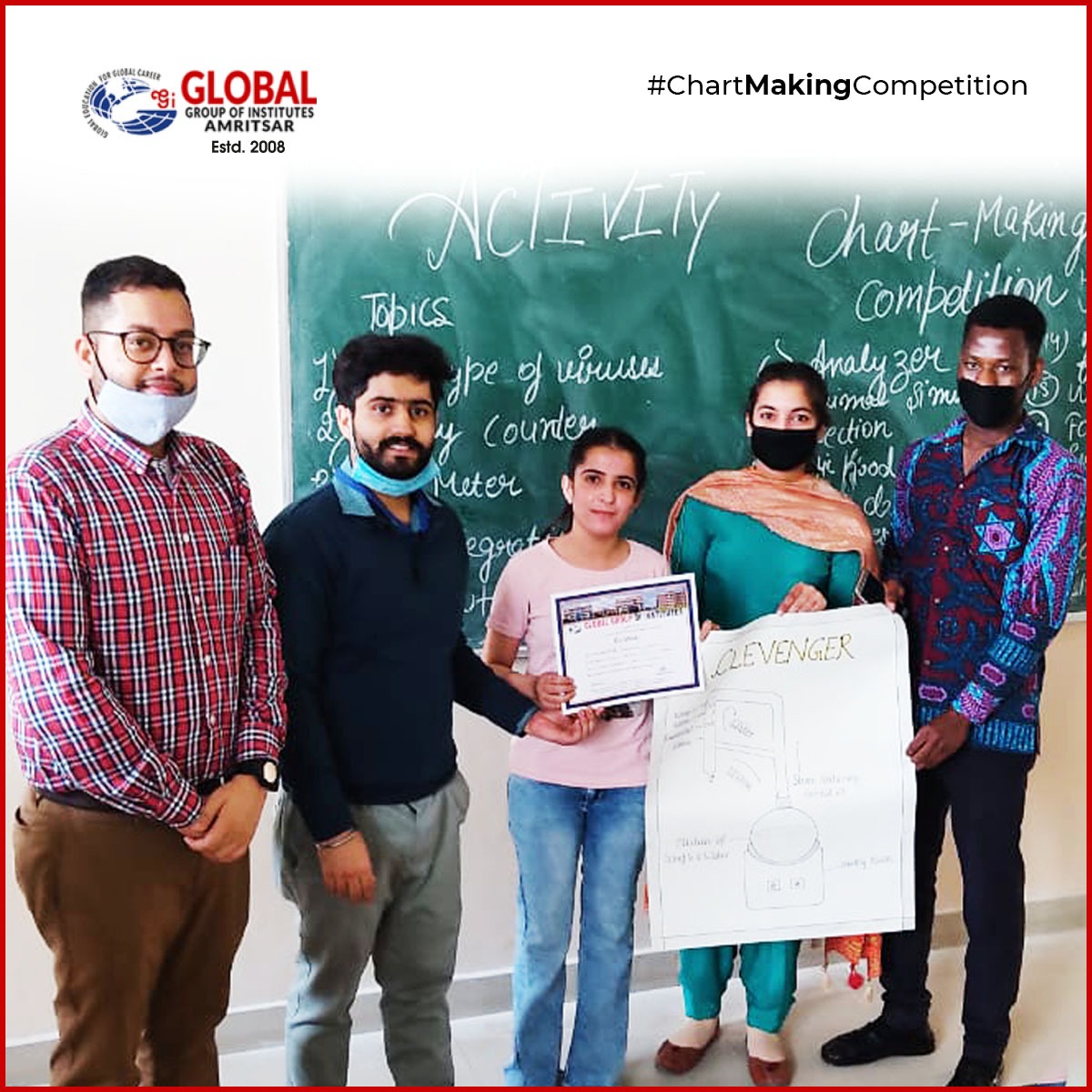 "Dumb Charades" on 24th Feb 2021
Dumb Charades involves explaining the 'phrases' or the name of 'a movie', 'a personality', 'a book' or 'a TV shows', etc. through acting. A person is not allowed to talk and is required to act out the phrase/name by using different gestures, facial expressions, and body language. The person enacting the name/song of the movie is not supposed to speak anything. However, he/she can use the pre-defined gestures to help his team members in guessing the given name/song. Each student was given a time period of 5 minutes to enact the respective movie for his team members. Total Number of Students: 59
At the end winners were awarded with certificates.
Winners of Event were:-
1. Mohammad Rumman from MLS-1 has secured 1st position.
2. Gurpinder Singh from MLS-2 has secured 2nd position.
3. Vikramjit Singh from B. pharmacy-1 secured 3rd position.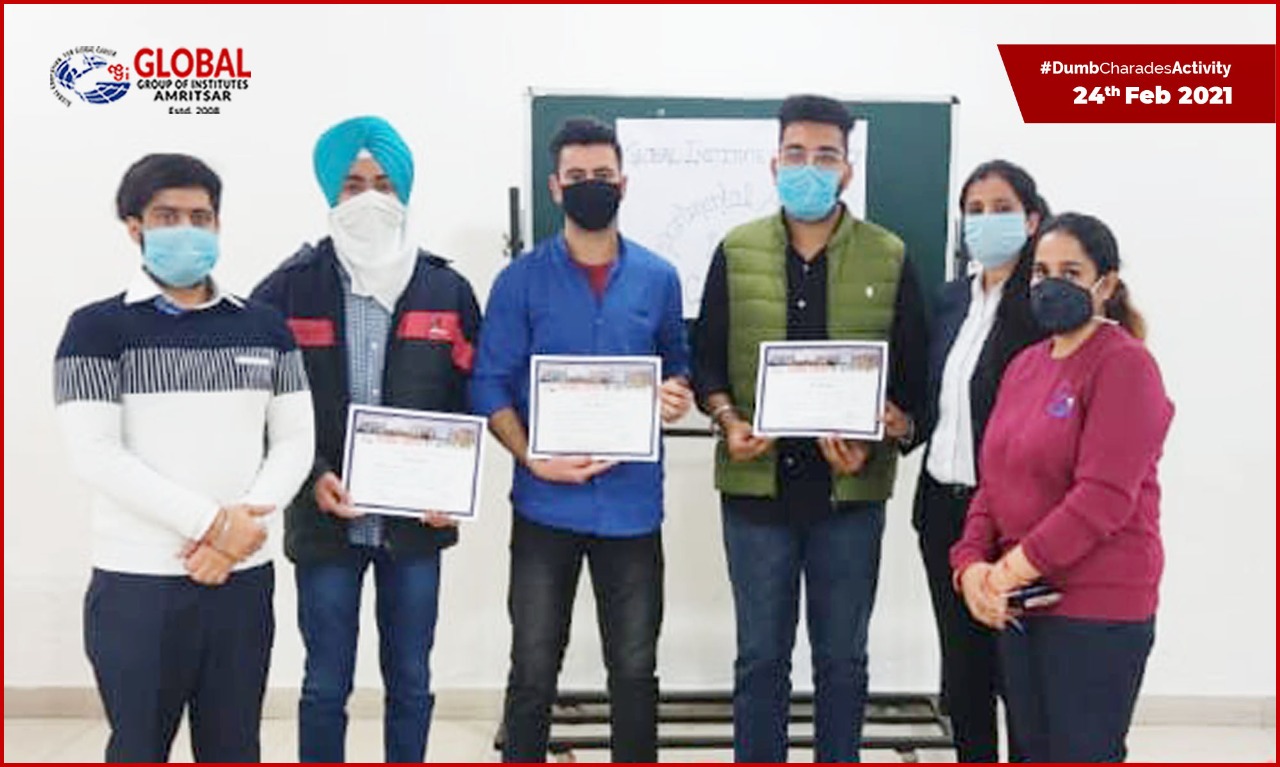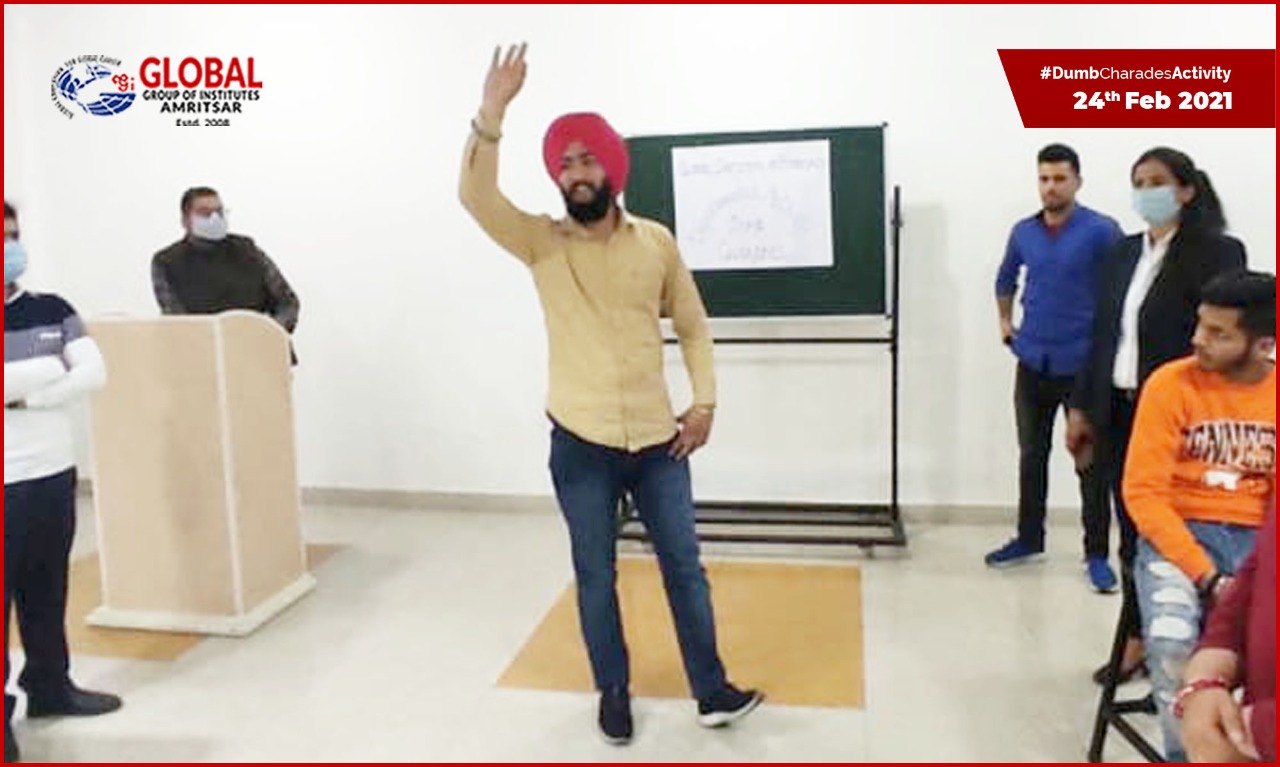 "Speech Competition" on 17th Feb 2021
Speech includes public speaking, limited preparation, and acting and interpretation and is a part of forensics competitions. These events do not include the several different forms of debate offered by many tournaments. These events are called individual events because they tend to be done by one person unlike debate which often includes teams. Opening with a relevant quote can help set the tone for rest of the speech. The main purpose of the event is that the students may share as well as discuss their views with each other clearing their doubts regarding the respective topic while giving them a broad view of the same. Each student was given the chance to present his/her view for a time period of 5 minutes. Total Number of Students: 33
Students presented speech on the following topics:-
1. Corona Virus and its effects
2. Farmer Protest
3. Corona Vaccination should be injected or not
At the end winners were awarded with certificates.
Winners of Event were:-
1. Deepak Singh Charak from B.pharmacy-3 has secured 1st position.
2. Pawanpreet Kaur from B.pharmacy-2 has secured 2nd position.
3. Badu Shadrack from B. pharmacy-2 secured 3rd position.