B.Sc. (Medical Lab Sciences)
B.Sc. (Medical Lab Sciences)
B.Sc. Medical Laboratory Sciences (MLS) is a healthcare professional course concerned with the diagnosis, treatment and prevention of diseases through the use of chemical, hematological, immunologic, microscopic, and bacteriological diagnostic analyses.
VISION
To provide well trained diagnostic professionals by providing cutting edge knowledge in the field of Medical Lab Sciences and to ensure that the student experiences hands-on learning in each discipline of the laboratory and, under supervision, performs diagnostic tests.
MISSION
To provide in-depth knowledge in biochemistry, haematological, immunologic, microscopic, mycology, parasitology, virology, histopathology, cytology, microbiology, serology, molecular biology and bacteriological diagnostic tests and procedures.
To advance the profession of Medical Laboratory Science by training enterprising and adaptable individuals who will take the forefront in the changing environment of health care.
To contribute to society through the pursuit of education, research, dissemination and application of knowledge.
To Create a state-of-the-art academic ambience nurturing critical thinking and ability to adapt to the changes required by medical advances.
To establish the collaborations with best laboratories of the country to provide the students a real working experience and training.
Rendering professional services for the benefit of society by adopting entrepreneurial approach, international standards and ethical values.
Course Offered
B.Sc. Medical Laboratory Sciences (30 Seats)
Duration : 3 years / 6 semester
B.Sc. MLS (Lateral Entry into 2nd Year)
Duration : 2 years / 4 semester
Eligibility
B.Sc.Medical Laboratory Sciences
All those candidates who have passed the 10+2 with Physics & Chemistry as compulsory subjects and one subject from Mathematics, Biology conducted by a recognized Board / University / Council can apply for admission to this course.
B.Sc. MLS (Lateral Entry into 2nd Year):
All those candidates who have passed the 3 year diploma in Medical Lab Technology with at least 50% marks in aggregate or 2 year Diploma in pharmacy from an institution affiliated to PSBTE&IT /recognized Board / University / Council.
Objectives
The objective of the course is to produce versatile Medical Laboratory Scientists equipped with adequate knowledge and skills in performing various laboratory analyses and tests related to patients' diagnosis and treatment and also for the prevention of disease. This course is aimed at producing competent Medical Laboratory Scientists of high professional standing in the delivery of laboratory practice and
Able to practice in all spheres of medical laboratory sciences or other related areas of employment.
Capable of functioning as informed professionals in a changing health care system and have the ability to evaluate and construct their own approach to medical laboratory science practice.
Inculcated with the values necessary to serve the patient and society as a caring, ethical, knowledgeable professionals and enlightened citizens; be it independently or as active members of the healthcare delivery system.
Having skills in critical observation and enquiry through placement in different units of specialties.
Possessing good understanding of current and future health issues, public health policy and international health rules and regulations.
Leaning Outcomes
Students will demonstrate entry level knowledge for a medical laboratory scientist.
Students will evaluate clinical data and results by applying knowledge and skills gleaned from this program.
Students will exhibit entry level psychomotor and clinical skills for a medical laboratory scientist.
Students will model the professional traits of an entry level healthcare practitioner.
Students will demonstrate competent written, oral, and visual communication skills, both as producers and consumers of information.
Program Outcomes (POs)
PO1:Laboratory Knowledge: Apply the knowledge of human anatomy, physiology, hematology, pathology, microbiology and biochemistry related to medical laboratory.
PO2:Problem Analysis: Identify, and analyze problems to arrive at substantiated conclusions using knowledge about different medical laboratory procedures.
PO3:Design/development of Solutions: Design solutions for complex diagnosis problems and design system components, processes to meet the specifications with consideration for the public health and safety, and environmental considerations.
PO4:Conduct Investigations of Complex Problems: Use knowledge including protocols, analysis and interpretation of data, and synthesis of the information to provide valid conclusions.
PO5:Modern Tool Usage: Create, select, and apply appropriate techniques, resources, and modern technology and laboratory tools.
PO6:The Lab Technician and Society: Apply reasoning informed by the contextual knowledge to assess societal, health, safety, legal issues and the consequent responsibilities relevant to the professional medical lab practice
 PO7:Environment and Sustainability: Understand the impact of the professional lab technician in societal and environmental contexts, and demonstrate the knowledge of, and need for sustainable development.
PO8:Ethics: Apply ethical principles and commit to professional ethics and responsibilities of the medical lab practice.
PO9: Individual and Team Work: Function effectively as an individual, and as a member or leader in teams, and in multidisciplinary settings.
PO10:Communication: Communicate effectively with the laboratory community and with society (patient) at large. Be able to comprehend and write effective reports documentation. Make effective presentations, and give and receive clear instructions.
PO11:Management and Finance: Demonstrate knowledge and understanding of protocols and management principles and apply these to one's own work, as a member and leader in a team.
PO12:Life-long Learning: Recognize the need for, and have the preparation and ability to engage in independent and life-long learning in the broadest context of technological change.
PROGRAM SPECIFIC OUTCOMES (PSOs)
PSO1: Student will be able to demonstrate the theoretical knowledge and technical skills to ensure the accuracy of laboratory test result.
PSO2: Student will be able to communicate courteously and effectively with laboratory personnel, other health care professionals, patients and the public.
PSO3: Student will be able to demonstrate laboratory practice standards in safety, professional behavior and ethical conduct.
Medical Laboratory Scientists examine and analyze body fluids, tissues, blood typing, micro organisms, screening, chemical analyses, cell counts etc. of the human body. They play an important role in collecting the information needed for treating most pathology cases by sampling, testing, analyzing and reporting such investigations. Given the focus on the healthcare and the demand for allied health professionals therefore career opportunities for clinical lab professionals are expected to grow faster than the average of all other occupations.
Scientific: Work as Laboratory Scientists at hospitals, Pharmaceutical laboratories, Public Health laboratories, research & product development.
Managerial: Supervisor in laboratory, as consultant to laboratory medicine industry, Quality assurance companies, sales & marketing
Educational: As a Tutor/Teacher in laboratory medicine graduate program.
"MLS / OTT /RIT Department Organized the " *Blind Artist " Activity on 23rd Feb. 2022 in Pharmacy Department."
In this activity ,One player is given a picture of an object or word. The person doesn't know what it is and he has to describe the image using words that will help in identifying the object. The other person draws the object on the basis of the verbal description given and their own guess work.
It was very intertesting and brain storming activity.
At the end the following winners were awarded certificates :
1.Amandeep Kaur ( OTT 2nd )
2.Shahnawaz
(RIT 2nd )
3. Shahid Ahmad Mir
( BMLS 6 th)
TALK ON FATTY LIVER
Department of MLS , RIT and OTT organised a expert talk on Fatty Liver on 16/02/23 by Dr. Jagdeep Singh, DM Gastroenterologist Fortis Escort Hospital Amritsar.
Department of MLS , RIT and OTT organised a expert talk on Fatty Liver on 16/02/23 by Dr. Jagdeep Singh, DM Gastroenterologist Fortis Escort Hospital Amritsar.
He discussed about Non Alcoholic Fatty Liver disease (NAFLD) which is a disorder characterized by the excess accumulation of fat in hepatocytes in about 40% of individuals. A subset of patients can develop progressive fibrosis, which can progress to cirrhosis.
He also advised about the habbit of daily exercise for atleast 20-30 minutes.
Dietary habbits also contribute in the cause of fatty liver. He advised to take three regular meals per day including 3-4 liters of water.
There are many causes of Fatty Liver and one of them is deficiency of Vitamin – D. To overcome the deficiency of vitamin – D, he advised the audience to take morning sun bath.
Dr. Jagdeep Singh's lecture on Fatty liver was very knowledgeable and was very useful for everyone especially students.
At the end there was an interaction session and students asked my question related to the topic which were satisfactorily answered by the learned speaker.
The students and faculty members thanked the speaker and requested him to deliver few more lectures on similar topics.
The lecture was highly appreciated by the faculty and students.
The Department of Medical Laboratory Science organized a visit to Laboratory at Shoor Multi Super Specialty Hospital, Khazana Gate, Amritsar on 22nd December 2022.
The Department of Medical Laboratory Science organized a visit to Laboratory at Shoor Multi Super Specialty Hospital, Khazana Gate, Amritsar on 22nd December 2022.
The students were also accompanied by faculty members.
In this tour, the students gained knowledge of basic working of in-house Laboratory, Machines like Erba semi-autoanalyzer, CBC cell counter, ABG Machine and Centrifuge Machine.
As it was an In-house Laboratory, students learnt about various laboratory guidelines, lab safety rules and handling of various samples like blood & urine.
Students were also made aware of step-by-step protocols of lab from collection of samples to final delivery of report. Students were also made aware of the basic hygienic procedures to be followed during working in the laboratory. Similarly in the laboratory, the students learned about the biomedical waste management procedures.
The visit proved very useful for the students
One day value added course on 'Introduction to MLS & Analytical Techniques used in Laboratory.'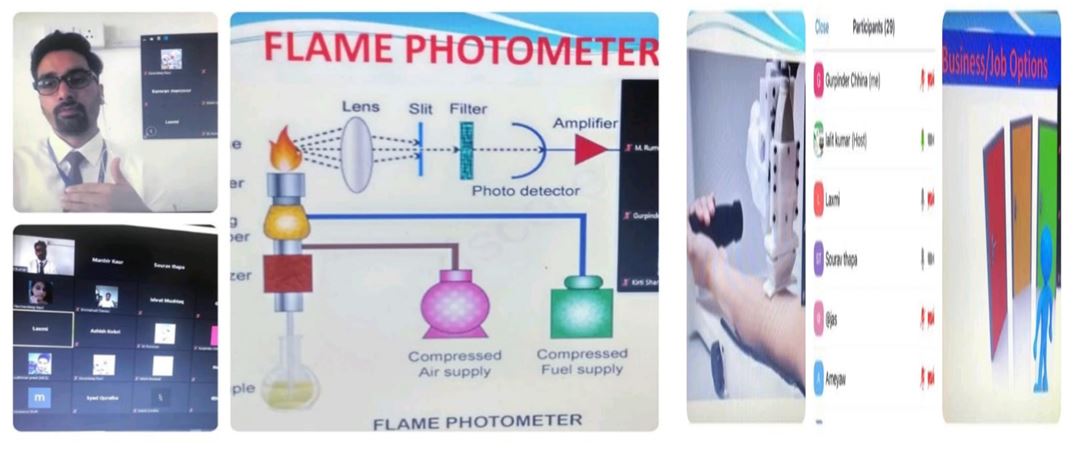 Department of MEDICAL LABORATORY SCIENCES organized a value added course on 30-10-2020 for the understudies, as these talks become a huge part of schooling. The discussion was passed on by Prof. Lalit Kumar, Head of Department of MLS TIMT, Jalandhar. The subject of talk was 'Introduction to MLS & Analytical Techniques used in Laboratory. Prof. explained that how the Medical Laboratory Science Department is highly focused on laboratory organization, laboratory safety, basic laboratory analyzers, pre-analytical, analytical and post-analytical variables, quality control, calibration and analytical techniques for laboratory settings. All the understudies went to the discussion successfully and moreover cleared their inquiries concerning their outline.
Total Number of Students were 40
One day value added course on "Laboratory Quality Management"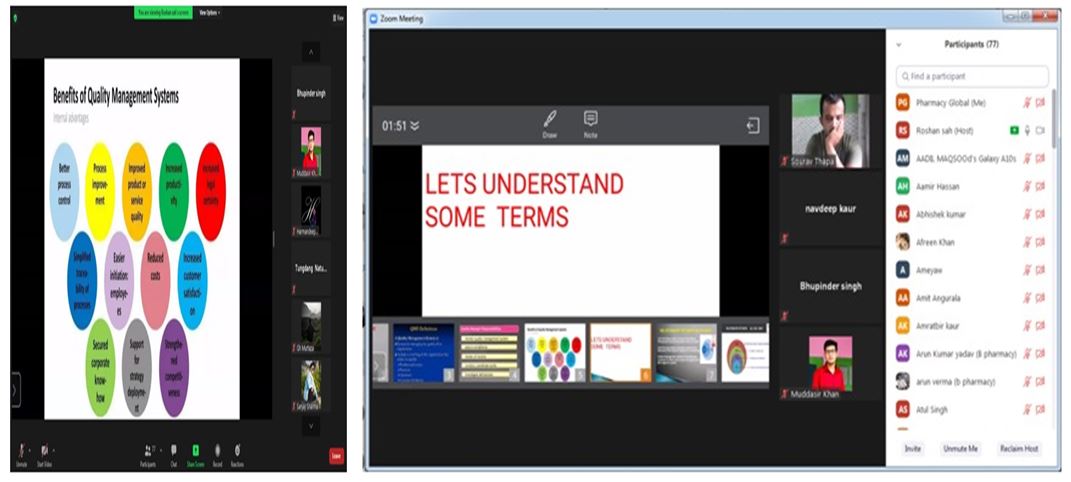 Department of Pharmacy and MLS organized a value added course on "Laboratory Quality Management" on 8-6-2021. Mr. Roshan Sah, a certified internal auditor and a scientific officer at SRL diagnostics who was the Expert Speaker for this webinar. In his interactive session, he gave detailed information about the Laboratory Quality Management which is one of the most important protocol to be followed these days.  Mr. Sah also gave practical hands-on experience providing the students with the data sheets to be filled during an internal audit and cleared many doubts about quality control. At the end of this activity, participants learnt the importance of a quality management system and quality system essential elements. The webinar was followed by question answer session and it was a great success and well appreciated by the students and faculty members.
Total Number of Students were 67