B.Sc. (Medical Lab Sciences)
B.Sc. (Medical Lab Sciences)
B.Sc. Medical Laboratory Sciences (MLS) is a healthcare professional course concerned with the diagnosis, treatment and prevention of diseases through the use of chemical, hematological, immunologic, microscopic, and bacteriological diagnostic analyses.
Course Offered
B.Sc. Medical Laboratory Sciences (30 Seats)
Duration : 3 years / 6 semester
B.Sc. MLS (Lateral Entry into 2nd Year)
Duration : 2 years / 4 semester
Eligibility
B.Sc.Medical Laboratory Sciences
All those candidates who have passed the 10+2 with Physics & Chemistry as compulsory subjects and one subject from Mathematics, Biology conducted by a recognized Board / University / Council can apply for admission to this course.
B.Sc. MLS (Lateral Entry into 2nd Year):
All those candidates who have passed the 3 year diploma in Medical Lab Technology with at least 50% marks in aggregate or 2 year Diploma in pharmacy from an institution affiliated to PSBTE&IT /recognized Board / University / Council.
Objectives
The objective of the course is to produce versatile Medical Laboratory Scientists equipped with adequate knowledge and skills in performing various laboratory analyses and tests related to patients' diagnosis and treatment and also for the prevention of disease. This course is aimed at producing competent Medical Laboratory Scientists of high professional standing in the delivery of laboratory practice and
Able to practice in all spheres of medical laboratory sciences or other related areas of employment.
Capable of functioning as informed professionals in a changing health care system and have the ability to evaluate and construct their own approach to medical laboratory science practice.
Inculcated with the values necessary to serve the patient and society as a caring, ethical, knowledgeable professionals and enlightened citizens; be it independently or as active members of the healthcare delivery system.
Having skills in critical observation and enquiry through placement in different units of specialties.
Possessing good understanding of current and future health issues, public health policy and international health rules and regulations.
Leaning Outcomes
Students will demonstrate entry level knowledge for a medical laboratory scientist.
Students will evaluate clinical data and results by applying knowledge and skills gleaned from this program.
Students will exhibit entry level psychomotor and clinical skills for a medical laboratory scientist.
Students will model the professional traits of an entry level healthcare practitioner.
Students will demonstrate competent written, oral, and visual communication skills, both as producers and consumers of information.
Medical Laboratory Scientists examine and analyze body fluids, tissues, blood typing, micro organisms, screening, chemical analyses, cell counts etc. of the human body. They play an important role in collecting the information needed for treating most pathology cases by sampling, testing, analyzing and reporting such investigations. Given the focus on the healthcare and the demand for allied health professionals therefore career opportunities for clinical lab professionals are expected to grow faster than the average of all other occupations.
Scientific: Work as Laboratory Scientists at hospitals, Pharmaceutical laboratories, Public Health laboratories, research & product development.
Managerial: Supervisor in laboratory, as consultant to laboratory medicine industry, Quality assurance companies, sales & marketing
Educational: As a Tutor/Teacher in laboratory medicine graduate program.
One day value added course on 'Introduction to MLS & Analytical Techniques used in Laboratory.'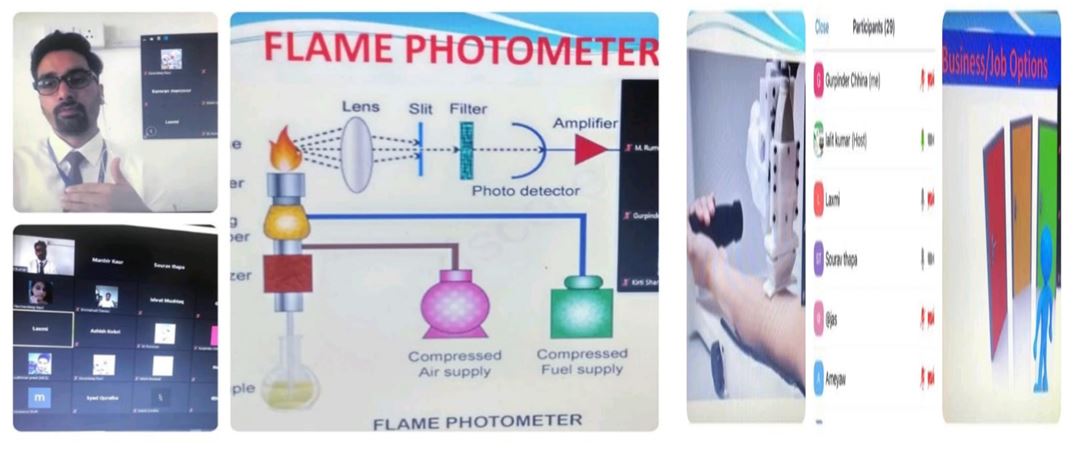 Department of MEDICAL LABORATORY SCIENCES organized a value added course on 30-10-2020 for the understudies, as these talks become a huge part of schooling. The discussion was passed on by Prof. Lalit Kumar, Head of Department of MLS TIMT, Jalandhar. The subject of talk was 'Introduction to MLS & Analytical Techniques used in Laboratory. Prof. explained that how the Medical Laboratory Science Department is highly focused on laboratory organization, laboratory safety, basic laboratory analyzers, pre-analytical, analytical and post-analytical variables, quality control, calibration and analytical techniques for laboratory settings. All the understudies went to the discussion successfully and moreover cleared their inquiries concerning their outline.
Total Number of Students were 40
One day value added course on "Laboratory Quality Management"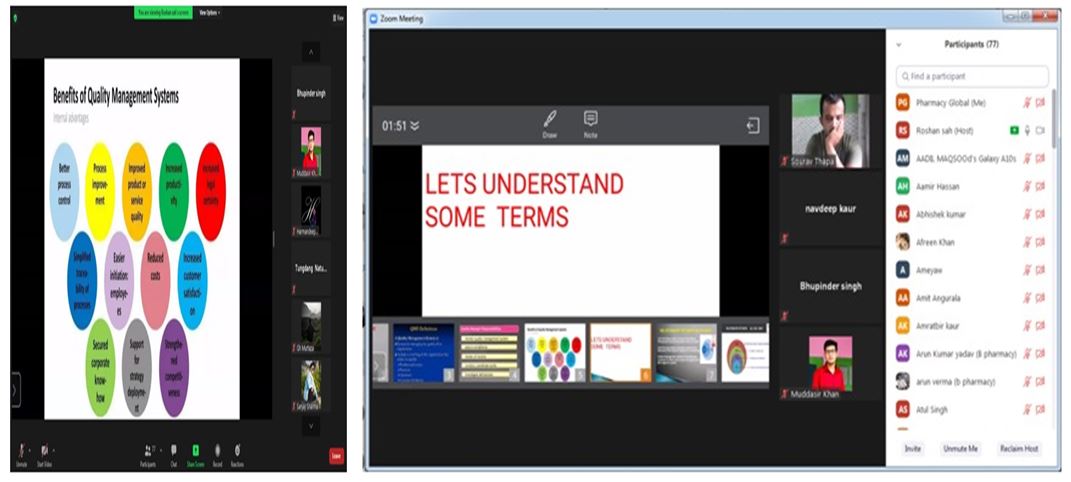 Department of Pharmacy and MLS organized a value added course on "Laboratory Quality Management" on 8-6-2021. Mr. Roshan Sah, a certified internal auditor and a scientific officer at SRL diagnostics who was the Expert Speaker for this webinar. In his interactive session, he gave detailed information about the Laboratory Quality Management which is one of the most important protocol to be followed these days.  Mr. Sah also gave practical hands-on experience providing the students with the data sheets to be filled during an internal audit and cleared many doubts about quality control. At the end of this activity, participants learnt the importance of a quality management system and quality system essential elements. The webinar was followed by question answer session and it was a great success and well appreciated by the students and faculty members.
Total Number of Students were 67