Global Group of Institutes organized a Turban Tying Competition at its Campus on 15th March 2022.
Posted by

Categories

General

Date

15 March, 2022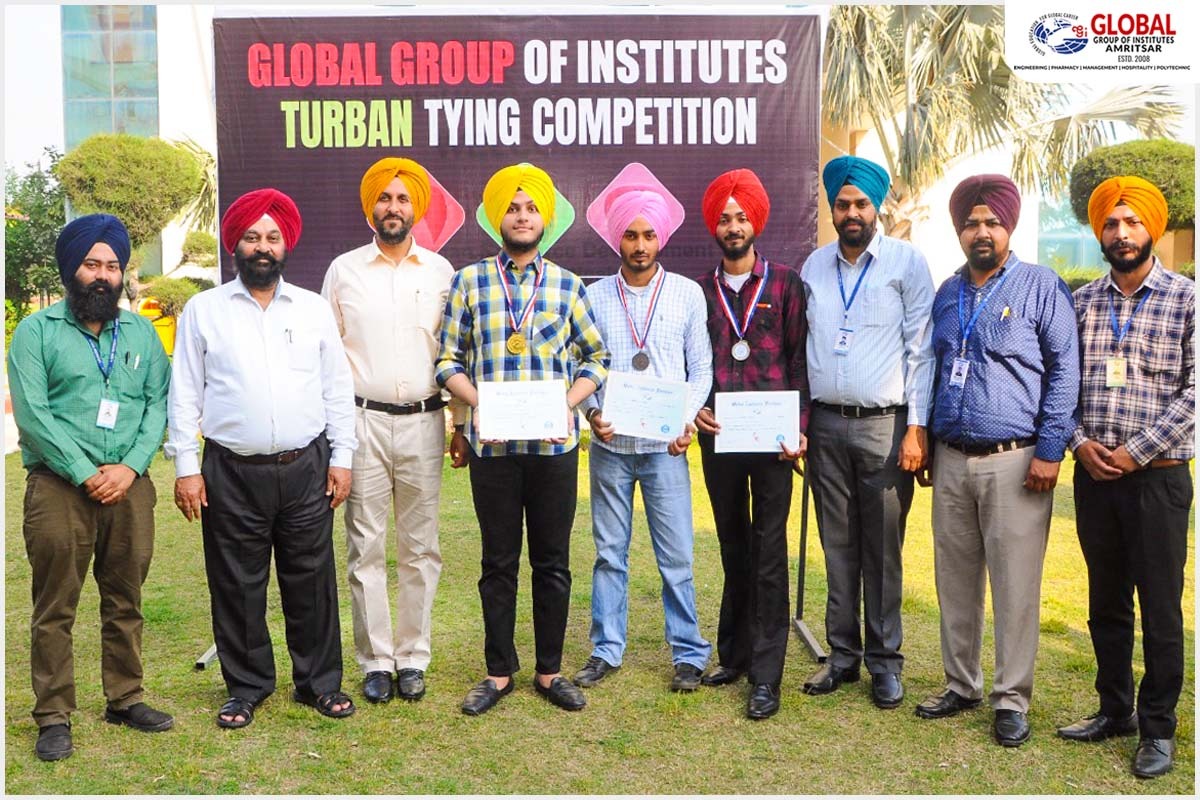 Global Group of Institutes organized a Turban Tying Competition at its Campus on 15th March 2022.
A large number of students from different streams participated and showcased their expertise in Turban Tying which is an art as well as the pride of Sikhs in particular and Punjabis in general.
The students tied Turbans of various eye catching and beautiful hues and colors and tried their hands and expertise at different styles like Patiala Shahi, Amritsar Style, Morni Turban Style, Vattaan Wali Style etc.
In the past, almost all Punjabis in the state used to tie the turban on their heads irrespective of their religious beliefs as the turban is considered to be a crown on the heads of its wearer.
The competition provided an opportunity to the students to educate themselves and promote the significance of the turban in Sikh religion and a distinct identity that it gives to them.
After the initial competition the following students emerged victorious in the Turban Tying Competition : Jaspreet Singh BBA 4th Sem. got 1st position.
Mr. Karanbir Singh, B.Tech CSE 6th Sem. stood 2nd.
Mr. Vikramjit Singh of B.Tech. CSE 4th Sem. secured 3rd position.
Dr. Akashdeep Singh Chandi, Vice Chairman while giving away the prizes to the winners of the competition said that it is high time that the young men take pride in tying the turban on their heads and also to popularise the turban tying amongst the youth today in the wake of an onslaught of modernity in all the spheres of life as turban represents honour, pride and a total commitment towards the ethos and teachings propagated by the great Gurus as a symbol of service to the mankind.
He went on to say that the turban provides for the realisation of rich values that are associated with the turban. "A Turban is Guru's gift to us, it is how we crown ourselves as the Singhs and Kaurs to sit on the throne of commitment to our own higher consciousness", he quoted
Dr. M.S. Saini, Campus Director, Principal Charanjit Singh, Coordinator of the competition Prof. Tejinderpal Singh and Mr. Kamaljit Singh were present on the occasion.