The Global Group of Institutes organised Turban Tying and Weightlifting Competitions Season-II 2023 at its campus on 15th September 2023
Posted by

Categories

General

Date

15 September, 2023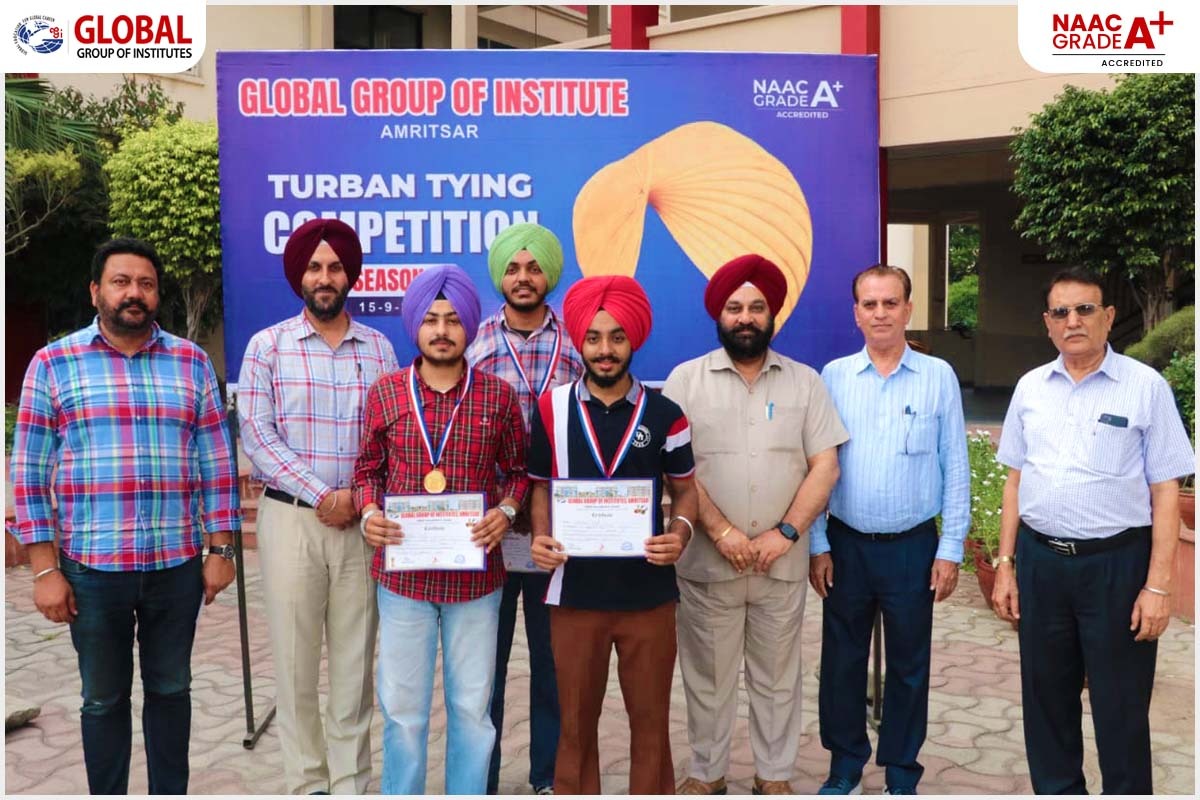 Turban Tying and Weightlifting Competitions at Global Institutes
The Global Group of Institutes organised Turban Tying and Weightlifting Competitions Season-II 2023 at its campus on 15th September 2023.Students from different departments participated in both the events.
Turban Tying competition saw young men showcasing their expertise in tying turban in different styles and varied hues. The colourful turbans aesthetically tied in different styles like Patiala Shahi, Amritsari, Morni and Vattanwali added to the persona of the wearer and signified the importance of the Turban for Punjabis in general and Sikhs in particular. The competition saw the students tying turbans smartly to emerge winner and bag the trophy.
Weightlifting competition attracted many students who displayed their power and strength by lifting huge weights in Bench Press and Squat events.
A large number of students participated in the competition and displayed their power in the campus gymnasium of the Global Institute. The results of both the events were as under:
●Turban Tying Competition:
(1st) Sahib Singh B. Pharmacy, 1st Sem.
(2nd) Mohitpreet Singh B. Pharmacy, 3rd Sem
(3rd) Rahuldeep Singh Daroch BCA, 5th Sem.
Weightlifting Competition:
Squat Wt. Lifted Bench Press Wt. Lifted
(1st) Toufeeq Umar, Radiology, 3rd Sem.
190 Kgs. 1. Sajid Khan, B.Pharm.,1st Sem. 120 kgs.
(2). Sharad, BCA, 3rd Sem. 180 Kgs. 2. Sharad, BCA, 3rd Sem. 100 kgs.
Dr. Akashdeep Singh Chandi Vice Chairman of Global Group of Institutes congratulated the winners and distributed the trophies, medals and certificates to the students standing first, second and third in Turban Tying and Weightlifting Competitions.
Dr. M. S. Saini, Campus Director, Prof. B. D. Sharma, Director Admissions, Dr. P.K. Sharma Dean Students Welfare, Dr. Sanjeev Saini, Dean Academics, Principal Charanjit Singh, Mr. Dilraj Singh, Sports Incharge, Mr. M. L. Loona Admin Officer, Mr. Tejinder Deep Singh,Mr.Jaspinder Singh,faculty members and students were present during the prize distribution ceremony.