Global Badminton Tournament Season-II was held at the Campus of Global Group of Institutes.
Posted by

Categories

General

Date

21 September, 2023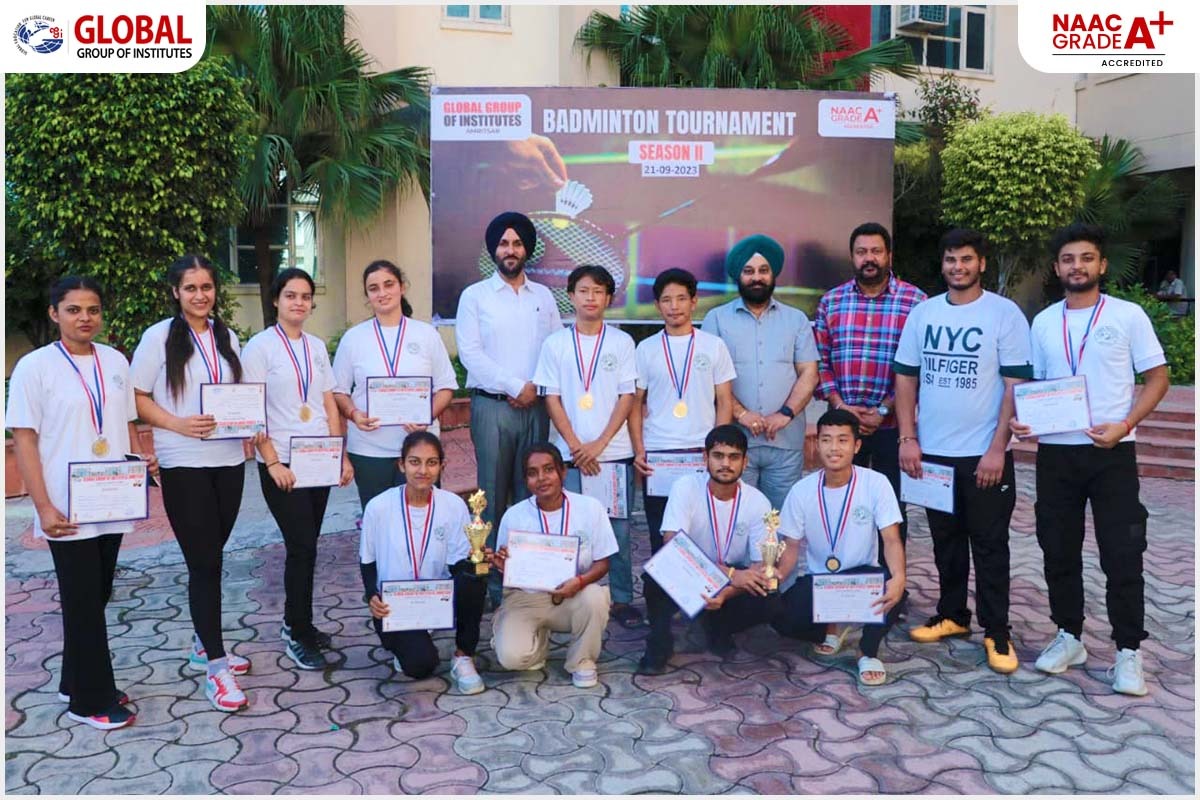 "Global Shuttlers Display Talent in Badminton Tournament"
Global Badminton Tournament Season-II was held at the Campus of Global Group of Institutes. A total number of 18 teams from different departments participated in the tournament played on the knock out basis. Ten (10) teams of boys and Eight (08) teams of girls vied for the championship trophy. The shuttlers displayed their playing acumen on the courts with powerful smashes and pointed and deft drop shots during their matches to win the games. Sporting activities are a regular feature of Global calendar where alongside Academics the students are encouraged to participate in different sports. The enthusiastic participation by the teams of both girls and boys was applauded by their departmental supporters.
In Girls competition the team of B.Tech. CSE won the championship and in Boys competition the team of B.Tech. Civil clinched the 1st Position. Final results are as follows:-
Girls:
1st : Sneha Khajuria B. Tech.CSE 4th Sem, Anjali B.Tech. CSE 3rd Sem
2nd : Akshita Sharma MBA 1st Sem, Simran Siddique MBA 1st Sem.
3rd : Beshalvi Thakur BCA 3rd Sem, Sezal Sachan BCA 3rd Sem.
Boys:
1st : Daniel Kewang B. Tech. Civil 3rd Sem., Tadar Papu B.Tech. Civil 1st Sem.
2nd : Om Sharma B. Tech CSE 3rd Sem, Harsh Sharma B.Tech. CSE 7th Sem.
3rd : Keshav Kumar B. Pharm. 5th Sem, Nabam Akin B.Pharm. 1st Sem.
Dr. Akashdeep Singh Chandi, Vice Chairman of Global Group of Institutes distributed the prizes to the winning teams. Interacting with the participants he said that the Institute organize such events regularly to encourage the students to participate in sports activities to enhance their overall personality and develop the feeling of friendship and cooperation. He further said that the Institute provides excellent infrastructure for indoor and outdoor sports alongwith its holistic approach towards excellence in education.
Dr. M.S. Saini Campus Director ,Mr. Dilraj Singh, sports incharge and a number of students were present during prize distribution