Civil Engineering: Building Strong Careers
Posted by

Categories

Blog

Date

22 May, 2020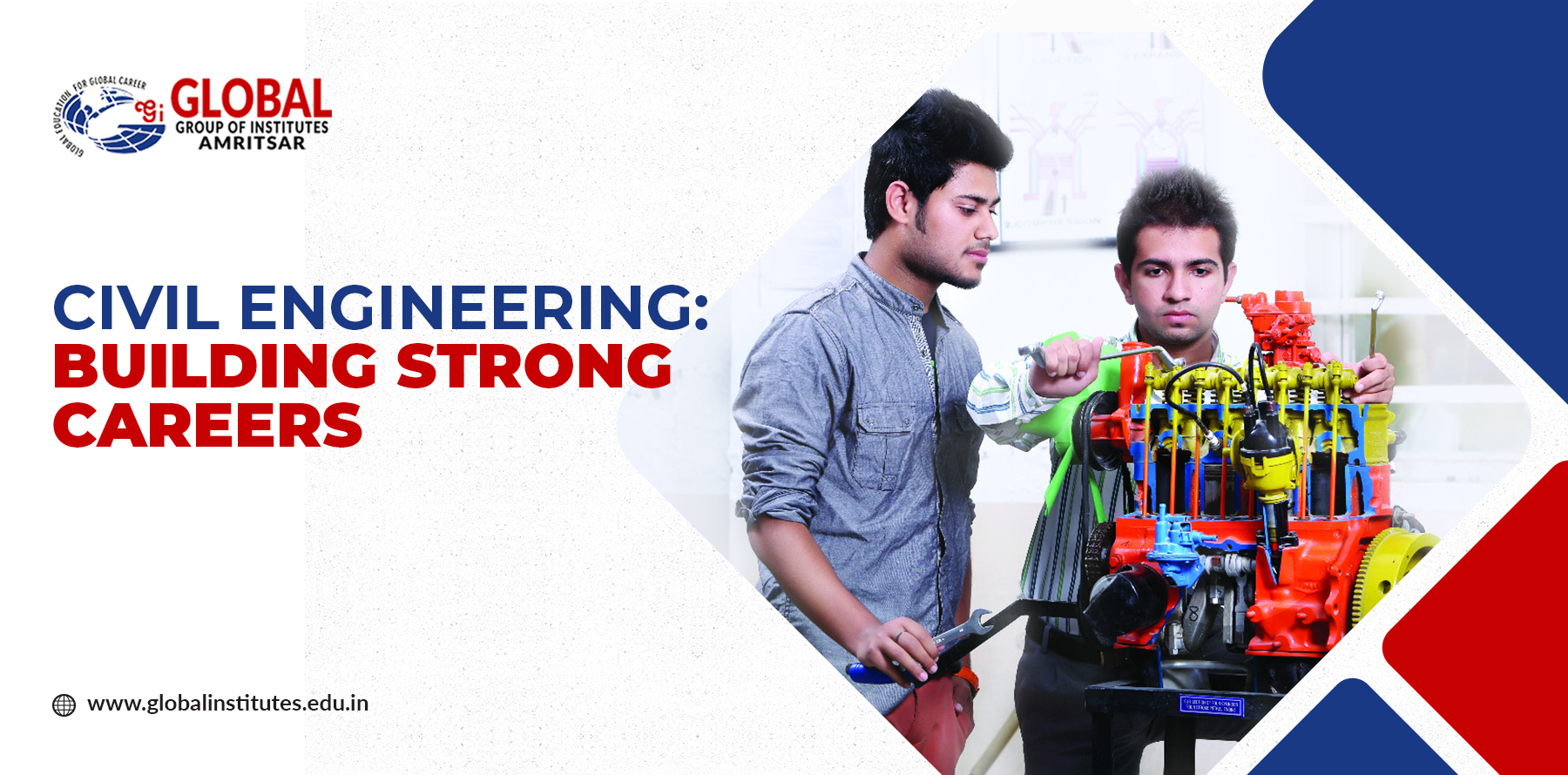 Today the country is galloping on the path of progress. Apart from big cities, the process of development is going on in small cities also. The shine in the real estate business has illuminated many important areas. One of these major fields is also Civil Engineering. Most students entering engineering are increasingly attracted to civil engineering. Apart from real estate, he is also doing many construction works such as bridge construction, road design, airport, drums, sewage system, etc. by his skill.
What is civil engineering?
Whenever a plan is made, the work of planning, designing, and structural works, from research and solution preparation is done for it. This work is not done by any ordinary person but is done by professional people, who fall under the category of civil engineers. This whole system is called 'Civil Engineering'. Under this, trained people have to work on a project, construction, or maintenance. Also, their responsibility for this work is decided. They are directed by the local authority. Civil engineers are also responsible for the cost of any project and project to-do list, contact with clients and contractors.
The scope is quite wide
The scope of civil engineering is quite wide. In this, there is a need for which field the students choose according to their convenience. Areas covered under this are:
Hydraulic Engineering
Material Engineering
Structural Engineering
Earthquake Engineering
Urban Engineering
Environmental Engineering
Transportation Engineering
Geotechnical Engineering
The structure of work is increasing in the country as well as abroad. With the arrival of major companies in India, the prospects have also been strengthened here.
Qualification to become a Civil Engineer
To become a civil engineer, the student first has to do B.Tech or B.E., which is possible only after getting a high rank in 10 + 2 (Physics, Chemistry, and Mathematics) or equivalent examination, while a PG course like M.Sc. or M.Tech. Bachelor's degree is required. Admission to these PG courses is done through the entrance examination. To do an integrated course, it is necessary to have 10 + 2. Civil engineering courses are also offered after the twelfth through polytechnics, which falls into the diploma category.
Nature of Admission Process
There are two types of the entrance examination. One is polytechnic and the other JEE and CEE. Only after being successful in this is the course admitted. There are some institutes which conduct separate entrance examinations. The entrance examination conducted for a Bachelor's degree is through JEE (Joint Entrance Exam) and the exam conducted for the PG course is based on CEE (Combined Entrance Exam).
Fees Charged
The fees charged for the course of civil engineering are high. When it comes to private institutions, they charge a fee of about Rs. 1.5 to 2 lakhs per annum from the students, whereas in IIT level institutions there is a limit of one to one and a half lakhs per annum. Much of this depends on the infrastructure of the institute, while the training fees of private institutions are at different levels.
Necessary Interest
Civil engineer jobs are very responsible and honorable. Without creative skills, it is difficult to succeed or move forward. Always have to work in the form of new projects and challenges. A civil engineer should have a sharp, analytical, and practical mind. Along with this, the quality of communication skills keeps you in it for a long time, because it is a type of teamwork, in which people have to interact with them.
Apart from this, you should have the ability to improve under pressure, solve problems immediately and have organizational qualities, while technical knowledge, knowledge of the major software of the computer, important measures related to building and its security, drawing, better coordination with the local authority and government organizations, Planning skills, etc. are an important parts of the curriculum.
Employment-related field
A civil engineer gets the opportunity to work in government departments, private and private sector industries, research and educational institutions, etc. The possibilities have increased at a much faster pace than other areas. The main reason for this is the revolution in real estate. Due to this, buildings, shopping, malls, restaurants, etc. are being constructed everywhere. They operate any unit from repair, maintenance to construction. After BTech, there are opportunities in road projects, building curves, consultancy firms, quality testing laboratories, or housing societies. Work opportunities are also provided by the Central or State Government. It is mainly filled with employment in railways, private construction companies, military, engineering services, consultancy services. After increasing the experience, students can open their own consultancy service. Can work as:
Civil Engineering
Construction plant engineer
Technician
Planning engineer
Construction project engineer
Assistant engineer
Executive engineer
Assistant engineer
executive engineer
Supervisor
Project coordinator
Site / Project Engineer
Salary Package
The salary available in it depends mostly on the central or state government department, while the calculation of private companies is different from that. After the bachelor's degree, the student starts getting Rs 20-22 thousand per month and after two to three years of experience, they get around 35-40 thousand per month. Civil engineers pursuing a master's degree get 25-30 thousand per month and after some years 45-50 thousand. After freezing in this field, you can easily earn up to 50 thousand per month.
Foreigners earn up to lakhs of rupees per month.