National Tourism Day at Global Group of Institutes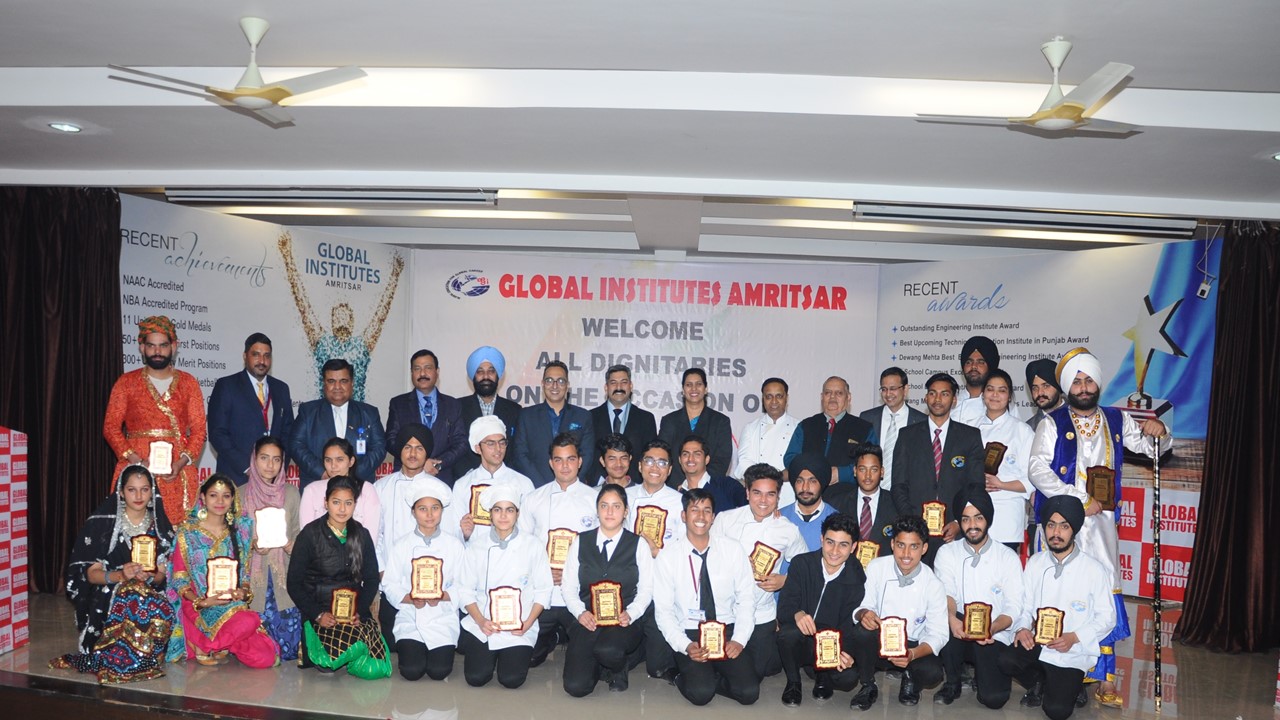 Indian Tourism Day is celebrated on 25th January every year. The day aims to increase awareness about Indian tourism through offering a variety of activities. We the Indians are people who believe in "Atithi Devo Bhava" which means that we always welcome our guests and treat them like God. 
The students of Global Institutes celebrated National Tourism Day with zeal and enthusiasm wherein an array of different events viz.  Chef Competition, Salad Dressing & Carving Competition, Rangoli Competition, Mocktail Making Competition, Bakery Competition, Towel Art Competition and Incredible India Events were organized.
Students of Hotel Management and Tourism & Travel Management participated in large number in various events.
Mr. Kamaljeet Singh, GM Hyatt Hotel was the Chief Guest Mr. Sandeep Sharma GM Comfort Inn Amritsar, Ms. Vandana, GM Best Westen Amritsar and Mr. Mani Shanker Jha (EY Chef), Humble UNA Hotel Amritsar were the Guests of Honour who also acted as Judges for the various events.
The Winners of various events were:-
Chef Competition: Navdeep Singh & Sachin Rakhi,
Mocktail Competition: Reema & Simranjeet Singh,
Salad Dressing & Carving Competition: Rahul Mehta & Kunal Singh,
Rangoli Competition: Harnoor Kaur & Sukhman,
Bakery Competition: Mannat & Manpreet,
Incredible India Event: Mandeep & Jasjit,
Towel Art Competition: Navjot Singh & Parveen Bhagat.
Dr. Akashdeep Singh, Vice Chairman, Global Institutes asserted that India is a vast nation, and it has a lot to offer as far as tourism is concerned. In the years to come, India will become the best destination and first choice of tourist around the world.  Cultural Heritage Tourism is one of the fastest growing segments in the world and India is very rich in its Cultural Heritage.
Dr. R. K. Ghai, Director of Global Institute of Management emphasized on volumetric role in contributing to the overall flourishing and sustainability of destinations and as well as local communities by creating direct and indirect jobs, so that they can run their small business based on tourism. It helps not only to local people to increase their economy but also in bringing people of different cultures and regions and languages to meet and enhance their mutual understanding.
Prof. Amit Hasija, Dean and Principal, BHMCT was the convener of the programme.