At Global Institutes, regular industrial visits are the vital part of the curriculum. It bridges the Gap between classroom teaching and corporate world and provides hand on knowledge on organizational structures and modes of operations in different industries.
List of prominent industries visited by the students during current semesters
Infosys Technologies, Chandigarh
Sonalika Tractors, Hoshiarpur
Reliance Industries Ltd., Hoshiarpur
Swaraz Mazda, Ropar
Hero Cycles, Ludhiana
Majestic Auto Ltd, Ludhiana
Punjab Communication Ltd., Mohali
Ranjit Sagar Dam, Mukeria
Jagatjit Industries, Hamira
Cheema Boilers, Ropar
Rail Coach Factory, Kapurthala
Amritsar Foundary, Amritsar
National Rubber Corporation, Amritsar
Embex Technologies, Chandigarh
Intellisense Technology, Jalandhar
PIDTS, Jalandhar
Vardhman Ltd, Hoshiarpur
GNA, Mehtiana
Ralson Tyres, Ludhiana
Coca Cola, Amritsar
JCT, Phagwara
Doordarshan Kendra, Jalandhar
Khanna Paper Mill, Amritsar
Indian Army Cantonment, Amritsar
Ludhiana Stock Exchange, Ludhiana
Verka Milk Plant, Amritsar
Central Hand Tools, Jalandhar
National Fertilizers Ltd, Nangal
Wonder Automations, Mohali
Nijjer Agro foods, Ltd Amritsar
Sebiz Mohali
Science City, Kapurthala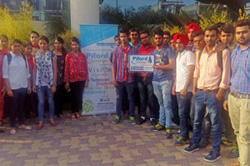 Industrial visit to CS Soft Solutions and Pi ford Technologies , Mohali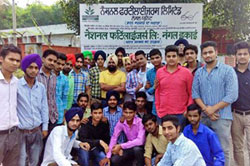 Industrial visit to National Fertilizers Ltd. Nangal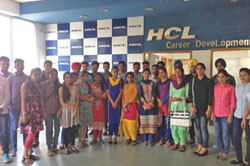 Industrial Visit to HCL and Solitaire Infosys Pvt Limited Mohali
Industrial Visit to Coca Cola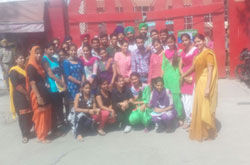 The students of MBA were taken to the Coca Cola Company where they were shown the automated machines working for the production, bottling, packaging, labelling & distribution of the Coca Cola Products.
Dept of CSE Organized Industrial Visit to Catalystone, Mohali
Department of CSE Organized Industrial visit on September 21st, 2015 to Catalystone, Mohali for B-Tech Final year students. The Objective of the visit was to create awareness among students about recent trends in the corporate world and to guide them for their Industrial Training, Internships, Placements and various Career Opportunities in Catalystone.
Industrial visit to PIFORD Technologies, Mohali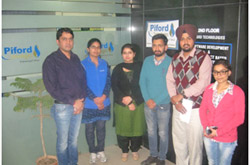 Department of CSE Organized an Industrial Visit to PIFORD Technologies, Mohali for the B.Tech 2nd and 3rd year students .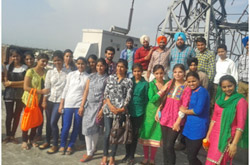 Industrial visit at Cell site of Reliance Communication Ltd.
Student of Pre-final year of ECE department visited the Cell site of Reliance Communication Ltd Mohali.
Industrial Visit to Sebiz Infotech, Mohali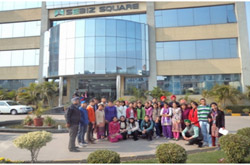 Department of CSE Organized an industrial visit to Sebiz Infotech, Mohali for B-Tech 3rd year students to familiarize students in terms of the technical details and Projects handled by the company on an important part of Recruitment ,Placement Policy and Various Career Opportunities in I.T. industry.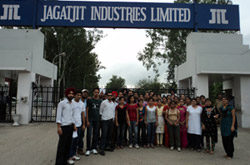 Visit to GNA Udyog Ltd., Jagatjit Industries & Avon Cycles Ludhiana
The Industrial visits of the students are a part and parcel of the curriculum at Global Institutes and prove to be highly fruitful as they give practical exposures to the students. With this end in view, students of MBA & MCA, were taken to GNA Udyog Ltd., Jagatjit Industries & Avon Cycles Ludhiana. These visits also enlightened the students about the practical implications of different management principles which are being implemented in the industries.
Visit to M&M Swaraj Division Mohali, Hydel Power Plant Mukerian & Majestic Auto Ltd.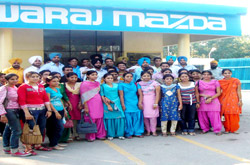 MBA & MCA students of our institutes visited M&M, Hydel Power Plant & majestic Auto Ltd. With such visits students get the first hand information about how different operations are being performed in the various departments of the organization.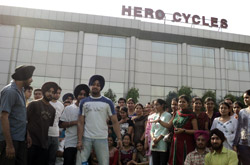 Visit to JCT Phagwara, GNA and Hero Cycles
MBA & B.Tech. (CSE, IT, ECE) 2nd Sem students visited JCT Phagwara and GNA. Such visits go a long way to acquaint the budding engineers and managers to learn the intricacies of practical management involved in such huge enterprises. The students also visited Hero Cycles, Ludhiana.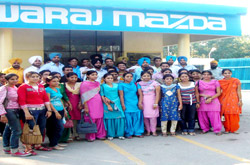 Visit to Swaraj Mazda
MBA and B-Tech (ME) students visited Swaraj Mazda along with their teachers in order to gain knowledge ofthe actual working ofthe manufacturing units: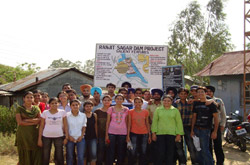 Visit to Ranjit Sagar Dam
The students were taken for industrial visit to RANJIT SAGAR DAM. At the dam site, the maintenance officer guided the students about the functioning of the Powerhouse. They were told about the type of turbines, their number and installed capacity which is around 6000MWatt.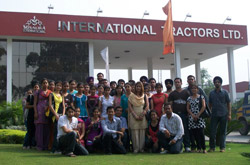 Visit to International Sonalika Tractors Ltd. and Mahavir Mills
We organized an industrial visit to Sonalika International Tractors Ltd. & Mahavir Mills. The students were shown the process as how a tractor is assembled in different units starting from the front side of the tractor till it's ready for use. The students also visited Mahavir Spinning Mills.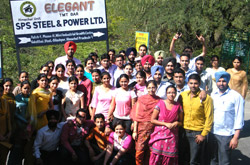 Visit to Science City
An educational tour of the MBA (1st semester) students was taken to Pushpa Gujral Science City, Kapurthala on 20th March 2010. The students of B.Tech. (CSE & IT) also accompanied them.