Mumbai Dabbawalas in Global Group of Institutes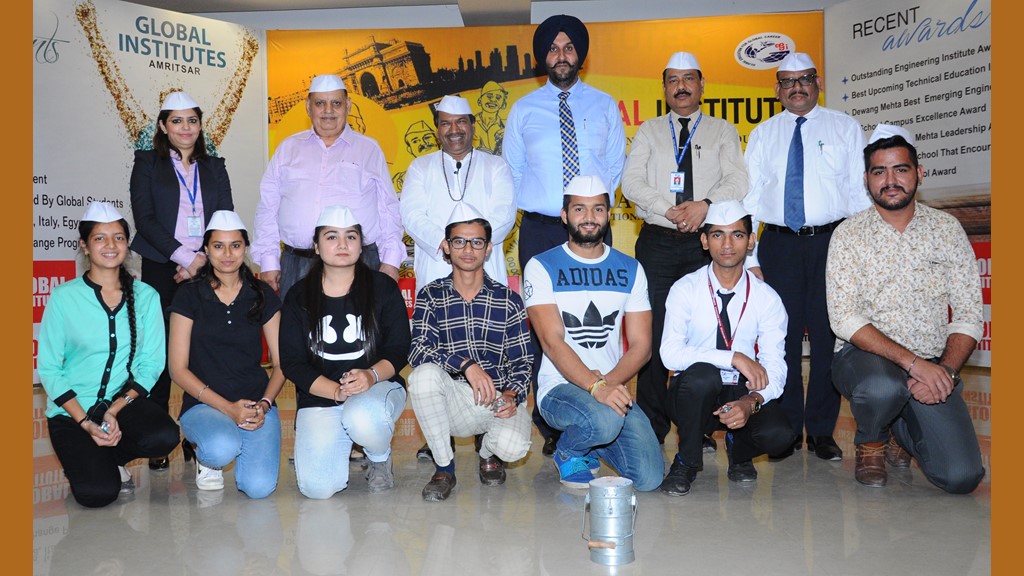 Dr. Pawan Agrawal who is a Management expert, Author, Educationalist, Business Consultant and successful Entrepreneur delivered a highly motivation lecture to the students and staff of Global Institutes, Amritsar.
Dr. Pawan Agrawal in his deliberation in detail the functioning of "Mumbai Dabbawalas" and how they move dabbas (Tiffins) of their customers from their homes to their place of work with six sigma accuracy which means that no "Dabba" is ever delivered to wrong person. Most of the 'dabbawalas' are either illiterate or hardly ever went to school but their way of functioning for 127 years is flawless and accurate. Prince Charles personally came to meet 'Mumbai Dabbawalas' on his visit to India and also invited them on his Marriage which was a rare honour for them. Dr Pawan Agrawal focused on time management, accurate delivery with a specified coding system, dedication to work on the part of employees, Team work, complete customers' satisfaction and a sense of belongingness and ownership amongst employees. He asserted empathetically on effectively accomplishment of the task assigned. He threw the light on the vital role of Induction programme and on job training of employees in Dabbawalas.

Dr Pawan Agrawal highlighted how Dabbawalas established trust amongst the customers, offered value additions to them. It has been noticeable that there is no court case and strike in the history of Dabbawalas.
Dr. Akashdeep Singh, Vice Chairman, Global Institutes in his welcome speech appreciated the role played by Dr. Pawan Agrawal in inspiring and encouraging people and making them realize their true potential by giving them examples of Mumbai Dabbawalas.
Dr. R.K. Ghai, Director, GIM highlighted the various achievements of Dr. Pawan Agrawal and the role played by him in simplifying the Supply Chain Management with the help of working style and approaches of Mumbai Dabbawalas.